15 Best Art Galleries in London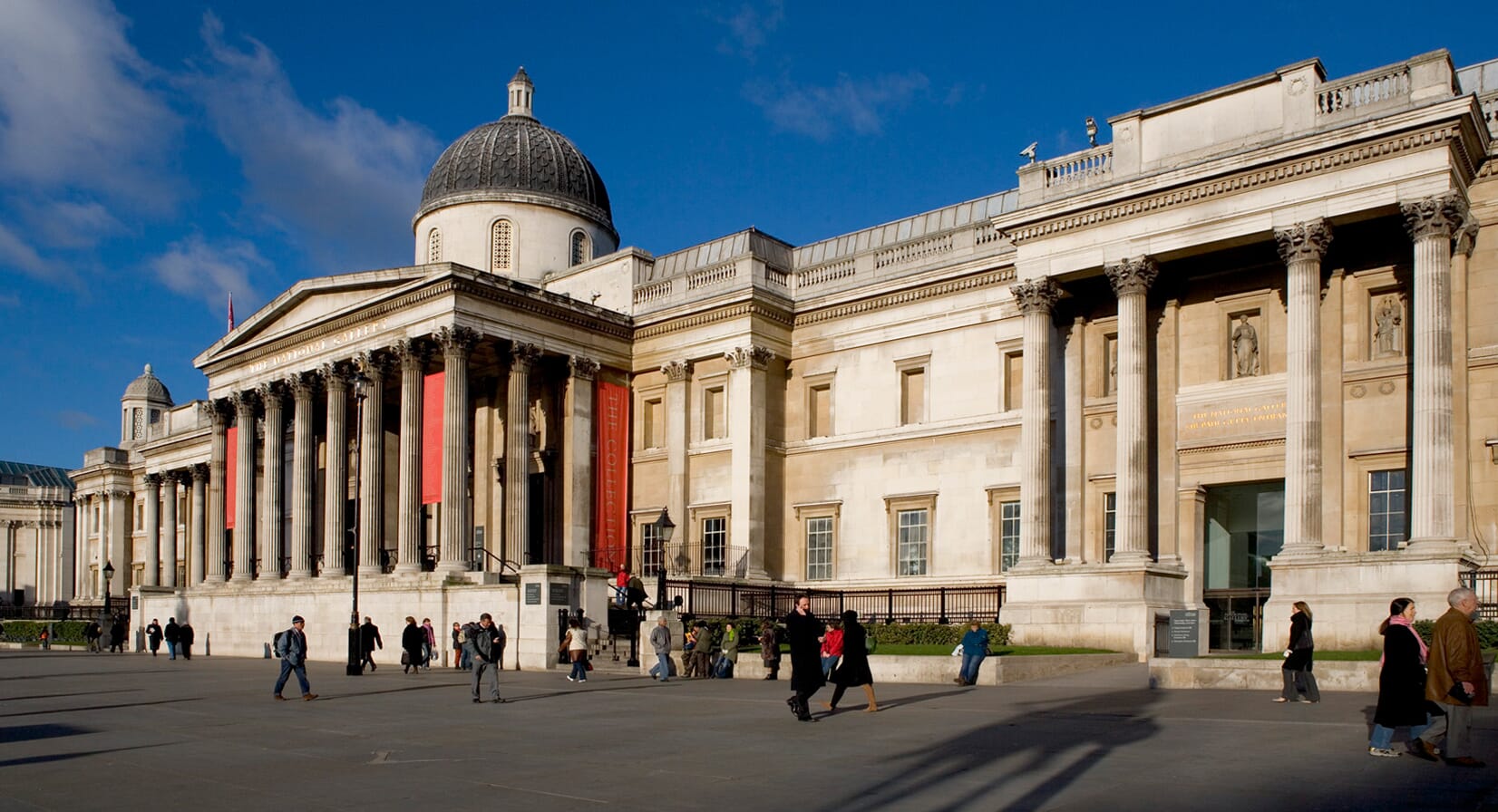 London wouldn't be the city it is without its thriving art scene. There are around 1,500 permanent exhibition spaces in the city, encompassing all artistic styles and movements – from classical to contemporary; Renaissance to realism. Whatever your tastes, you are sure to find something to suit your taste. You do not know where to start ? You have come to the right place. We've rounded up some of the best art galleries in London, from small independent galleries to world-renowned institutions. Scroll down to get your dose of culture…
The best art galleries in central London
National Gallery
National Gallery in Trafalgar Square is one of the most visited art galleries in the world, with a collection of over 2,300 paintings dating from the mid-13th century to 1900. Here you'll find all the big names, including Monet, van Gogh and da Vinci. Admission to the permanent collection is always free, but the temporary exhibitions are subject to a charge.
Royal Academy of Arts
As Britain's oldest art school, AR has been defending art and artists for over 250 years. It showcases its collection of art and architecture in free exhibitions throughout its home on Piccadilly, as well as world-class art exhibitions, including the hugely popular annual summer exhibition.
Hayward Gallery
the Hayward Gallery in the Southbank Center is one of London's top contemporary art galleries and a landmark of brutalist architecture. Its year-round exhibition program showcases an impressive array of some of the world's most influential artists. Past highlights have included exhibits featuring the likes of Paul Klee, Bridget Riley and Antony Gormley.
The best art galleries in East London
Whitechapel Gallery
The Whitechapel Gallery in the capital's East End opened in 1901 as one of the first publicly funded galleries for temporary exhibitions in London. Its magnificent Grade II listed building first hosted the talents of Jackson Pollock, Mark Rothko and Frida Kahlo, and continues to host some of the boldest and most interesting contemporary artistic talents.
Maureen Paley
Curator of Contemporary Art Maureen Paley's homonymous gallery is a must visit when passing through Bethnal Green. It exhibits a wide range of established and emerging international artists in a light and airy industrial space.
The Barbican Center
The Barbican Center is one of London's most beloved brutal beauties. Beyond its thick concrete walls lies an oasis of culture, including art and design, theatre, film and music. Keep an eye out for its rotating program of free and paid art exhibitions, which feature some of the world's most important artists.
The best art galleries in North London
Camden Arts Center
Camden Arts Center on Finchley Road was designed with the aim of encouraging the community to engage with art and the people who make it, while connecting with their own creativity. It holds regular exhibitions, events and classes and is a must-visit for North London contemporary art lovers. Admission is always free.
Victoria Miro Gallery
Housed in a former factory right in the center of bustling Hoxton, the Victoria Miro Gallery is a contemporary art hub that counts Grayson Perry, Alice Neel and Yayoi Kusama among its exhibiting artists.
Zabludowicz Collection
Art collector Anita Zabludowicz has transformed an incredible 19th century chapel at Chalk Farm into a vibrant space dedicated to curating and collecting new works by artists in the early stages of their careers. Visit the Zabludowicz Collection for inventive and experimental works that push the boundaries of contemporary art.
West London's Best Art Galleries
serpentine gallery
the serpentine gallery offers a dose of culture in the peaceful surroundings of Hyde Park. Throughout its 50-year history, the gallery has celebrated artists who have achieved international acclaim, including Anish Kapoor, Damien Hirst, Jeff Koons and Marina Abramović.
Saatchi Gallery
from Chelsea Saatchi Gallery was founded in 1985 by Charles Saatchi, initially drawing from his personal collection, before quickly becoming a globally recognized authority on contemporary art. Over the years he has exhibited works by everyone from Andy Warhol to JR.
design museum
Although not strictly an art gallery, the design museum in Kensington is not to be missed if you are a fan of contemporary art or design. It features everything from architecture, fashion, graphics, product, and industrial design.
The best art galleries in South London
Dulwich Photo Gallery
The Dulwich Photo Gallery houses an impressive collection of European Old Masters from the 17th and 18th centuries as well as a rotating program of contemporary exhibitions in a magnificent building designed by Sir John Soane. It opened in 1814 as the world's first public art gallery.
Goldsmiths Center for Contemporary Art
This south london gallery in a former Grade II listed Victorian bathhouse, was designed by Turner Prize-winning architecture collective Assemble. Located in the heart of Goldsmiths, University of London, it builds on Goldsmiths' world-renowned artistic reputation and hosts international artists, projects and residencies as well as lectures, performances, films and other events.
Newport Street Gallery
Newport Street Gallery at Vauxhall was built specifically to display exhibitions from Damien Hirst's personal art collection, as part of Hirst's long-term ambition to share his art collection with the public. The incredible vaulted space has featured everyone from Jeff Koons to Tracey Emin.
---
---
Get inspired: here are 10 exceptional artists to follow on Instagram.