A visit to the Booth Western Art Museum | News by the lake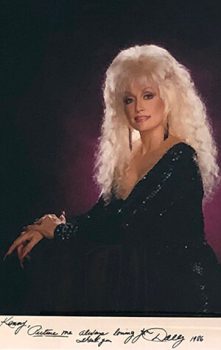 This is the latest installment in a series focusing on things to do when visiting our northwest neighbors, Cartersville, Ga.
Short video tour of the museum:

Even before entering the Booth Western Art Museum, larger-than-life bronze sculptures greet visitors throughout the wooded campus. Located just a few blocks from downtown Cartersville, the 120,000 square foot Smithsonian-affiliated museum was named "America's Best Art Museum" by USA Today in 2020. Rightly so.
In addition to an extensive collection of Western art, including works by Frederic Remington, Ansel Adams and George Catlin, the museum offers changing exhibitions throughout the year.
This spring's highlight is "Through the Years: Kenny Rogers' Photographs of America," a collection of works created by the late singer-songwriter and former Georgia resident. From landscapes to portraits of celebrities, Rogers' works prove that he had a depth beyond the words of his songs.
Her portrayal of Dolly Parton captures her kindness and poise. His self-portrait shows a man devoted to his art, posing in front of an imposing hillock. The exhibition features 60 of his photographs in the very first presentation of his works since his death in March 2020.
Permanently exposed
The museum's designers and curators take advantage of every space in the 8-gallery installation. At any one time, more than 50% of the permanent collection is on display.
Galleries with permanent exhibitions include:
American West Gallerywith more than 100 paintings and sculptures organized around themes
Frank Harding Cowboy Gallery pays homage to cowboys and cowgirls, through paintings and sculptures
Neva & Don Rountree to West Gallery recalls the beginnings of the frontier showing mountaineers and fur trappers. An original stagecoach from 1865 stands in the middle of the space.
War is Hell Gallery focuses on the Civil War through contemporary art
Native Hands Gallery more than 150 Native American artifacts represent tribal cultures, from clothing to tools.
Modern West Gallery brings together examples of stylistic changes in Western art over the past 50 years.
Another highlight of the Booth Museum is the Carolyn & James Millar Presidential Gallery. It features signed one-page letters from each of the U.S. presidents below their portraits. The Commanders-in-Chief Mural made up of three paintings measuring 14 by 20 feet each depicts near life-size full-length portraits of American presidents of the past two centuries. Created by Ross R. Rossin, his works are also in the collections of the Smithsonian National Portrait Gallery in Washington, DC Rossin is currently adding 21st century presidents to the murals.
The Booth Museum offers virtual and online tours of its galleries, as well as online lectures and other programs. Times, admission prices, and times are listed on the museum's website at boothmuseum.org.
Upcoming stand events
Until July 10: "Through the Years: Kenny Rogers' Photographs of America", Booth Museum, Cartersville.
April 6: Dolly Parton/Kenny Rogers Tribute Concert, The Grand Theatre, Cartersville. Singers Karen Hester and Dave Karl recreate the music of these two country greats.
March 8-April 10: College, high school art exhibition.
April 12-May 15:Primary and elementary school art exhibit.
March 24-July 31:Sweet Tea VI: Toast Texas. Exhibition of private works by Texan collectors.
Photos: Courtesy Booth Western Art Museum; Photo by Dolly Parton: Courtesy of Kenny Rogers Estate