Bored of the pub? Visit one of Bristol's top six art galleries this autumn
As autumn and winter arrive, the days of spending your free time in the Downs or Brandon Hill are over. One of the best (and mostly free) things to do indoors is to visit some of Bristol's art galleries.
Bristol is a city full of culture and going to the art galleries is one of the best ways to get some, each having something for everyone.
Here are some great art galleries with great exhibitions to visit in Bristol so you can stay warm and enjoy your main character moment.
1. Arnolfini
Arnolfini is home to some of Bristol's best and most extensive exhibitions of contemporary art. This fall they will present The Body is a Place by Bharti Kher, a collection of colorful paintings, drawings and sculptures that explore the realms of magic, myth, spiritual and science. Arnolfini also has a bar, if you fancy a pint after doing some culture.
Admission is free and by reservation. here with walk-ins available during the day too.
Find it here: 16 Narrow Quay, Bristol, BS1 4QA.
2. Bristol Museum and Art Gallery
The Bristol Museum and Art Gallery has a great collection of art, nature and history, which means there is something for everyone. One piece of art they are currently exhibiting is John Akomfrah's Mimesis: African Solider, a film that tells the story of Commonwealth soldiers who fought in the First World War. Located right next to the Wills Memorial Building, the museum is the perfect place for a study break.
Admission is free, with tickets available at the door. More information is available at the website.
Find it here: Bristol Museum and Art Gallery, Queen's Road, Bristol, BS8 1RL.
3.RWA
The newly renovated RWA showcases both contemporary and classic art by leading artists from around the world. Currently, they are displaying their 169e Annual open exhibition, which brings together a variety of works by emerging and established artists from across the country and beyond, including two watercolors of King Charles III. The gallery is located on the Triangle, so like the Bristol Museum and Art Gallery, it's a great place to take a break from studying.
Admission is free with a student card, with tickets available at the door. More information is available at the website.
Find it here: Royal West of England Academy, Queen's Road, Bristol, BS8 1PX.
4. Peak Island
Spike Island is an art gallery that features a range of contemporary art exhibitions from emerging and established artists. From October to January they present Ways of Attaching by Rosemary Mayer, an exhibition of fabric sculptures by Mayer made from 1972 to 1990 and this is the first time her work has been shown in the UK. Always showcasing something different, Spike Island is the place to go to see unique works of art.
Admission is free, with tickets available at the door. More information is available at the website.
Find it here: 133 Cumberland Road, Bristol, BS1 6UX.
5. Wake the Tiger
Created by the same people behind the Boomtown festival, Wake The Tiger is an immersive art experience that will take you to parallel worlds. The experience includes 27 different creative environments that guide you through the world of Meridia using immersive and interactive artwork. An afternoon there can be an escape from the world of academic work and deadlines.
Read the exclusive Bristol Tab review for more details.
Tickets cost £15 and can be purchased here.
Find it here: 127 Albert Road, Bristol, BS2 0YA.
6. Upfest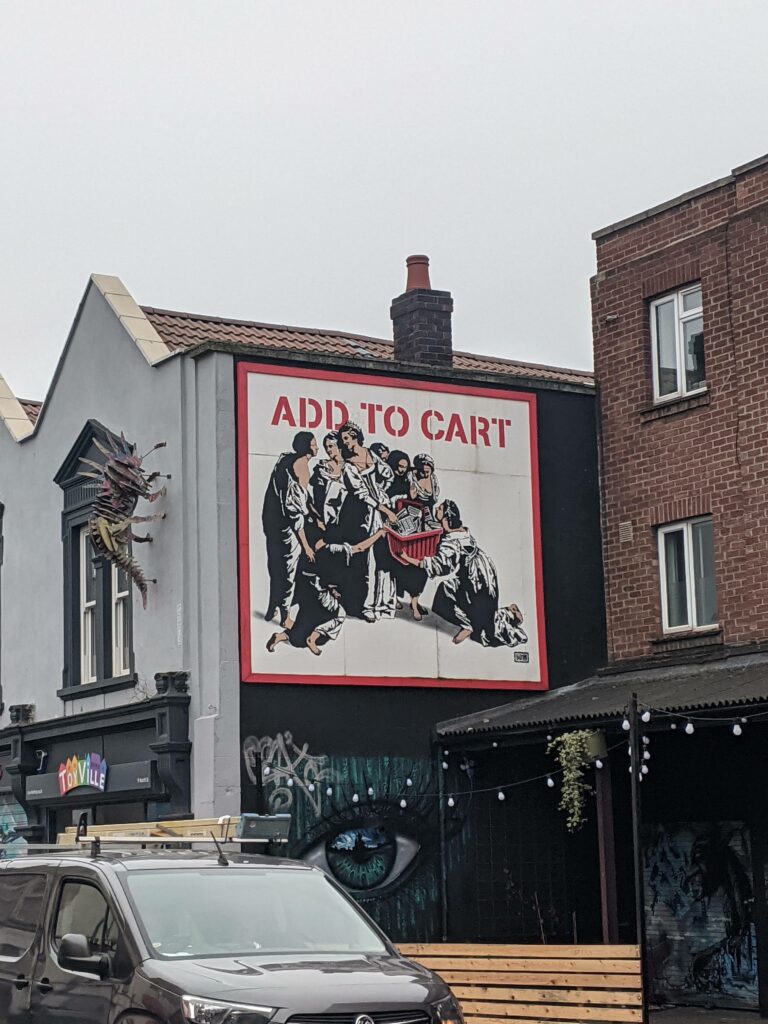 If you feel like braving the cold, head south of the river to see Upfest, Europe's biggest street art and graffiti festival. The streets of Bedminister were colourful, displaying some of the best street art in the country. A great place to see some amazing graffiti or just to take some cool photos.
It runs all year round and you can find a map of the artworks and more information about the festival here.
Related stories recommended by this writer:
• Something for every listener: find your perfect Burst Radio show
• BREAKING: Bristol University students can finally get free buses to Coombe Dingle Sports Complex
• The cost of travel to university forces me to choose between lectures and my weekly shop