Cultured, Kavi Gupta and the Aspen Museum of Art host an art-filled luncheon to launch ArtCrush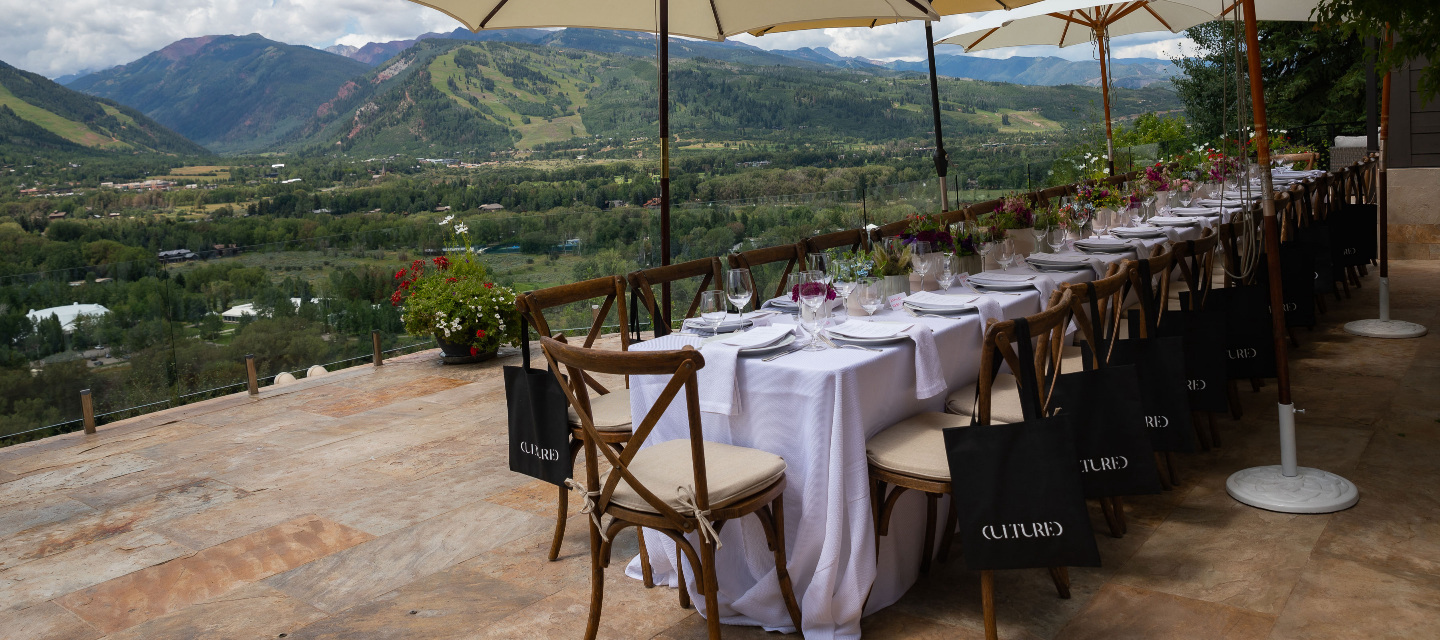 To kick off the annual week of collection, gallery visits and fundraising scheduled for the Aspen Art Museum's ArtCrush Benefit Gala, an accomplished group of art-world personalities, aficionados and collectors gathered at Sterling McDavid's residence in Aspen, Colorado for a lively mountaintop lunch. 1st of August. The intimate evening, organized in partnership with the Aspen Art Museum, Cultivated Founder and Editor-in-Chief Sarah Harrelson and Gallery Kavi Gupta, presented a tour of the incredible McDavid Art Collection followed by a sit-down reception for the talented group.
Upon arrival, guests were escorted to McDavid's beautiful mountainside estate to explore its extensive art collection, which includes works by Sabine Marcelis, KAWS and a series of Campbell's soup cans by Andy Warhol. Attendees including Ashlee Harrison, Ashley Wein, Brynne McNulty, Dana Farouki, Jaclyn Carr, Alex Israel, Jamie Tisch, Jeanne Greenberg, Karen Lord, Sarah Arison, Silvia Cubina, Chanelle Lacy and Sophia Cohen marveled at the house gallery-like, whose bay windows synthesize the natural beauty of the environment with contemporary works. Inspired, they then retired to the backyard where a floral table was set for the sit-down lunch, a four-course meal paired with woman-owned RGNY wines. On homemade salads made with farm-fresh green vegetables or sliced ​​heirloom tomatoes, peaches, basil, olive oil and burrata; vegetarian tabbouleh with fresh corn, purple onion, squash and roasted carrot; Vegetarian lasagna; macaroni and cheese with truffles, and a medley of grilled summer vegetables with basil pesto, wild rice with locally grown mushrooms, they swapped art and travel stories and reflected on what turned them on in the upcoming ArtCrush week. A chocolate cake and homemade ice cream dessert completed the menu.
At the end of the elegant afternoon affair, attendees raised a toast to the successes of their dinner partners, hosts, and to celebrate the long-awaited start of Aspen ArtWeek. Everyone spent the rest of their day with a gift they will remember: a Cultivated tote and copy of the current summer issue, which features some of the exciting artists whose work is currently on display at the Aspen Museum of Art and in galleries across the city.
Subscribe to the Cultural newsletter
Of course, we can be close friends. Unfiltered access awaits.