Donate to the Japan Wool Art Academy and receive a portable giant cat head in return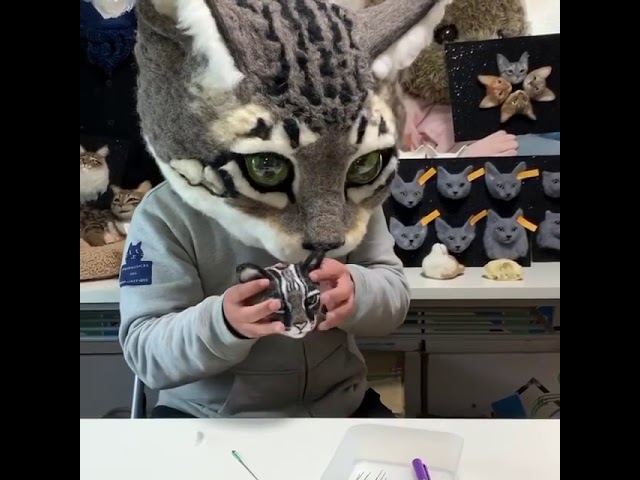 Do these giant woolen cat heads look familiar? You may have seen them on the internet lately, but their creator is facing financial difficulties due to the coronavirus. These larger than life works of art are the brainchild of Housetsu Sato, who is also the founder of the Japan Academy of Wool Arts. The school teaches knitting and yarn art techniques, including how to make these famous, lifelike cat heads.
The school and its founder have been through turmoil as Sato recently recovered from a severe brainstem hemorrhage. The recovery was only at the beginning of the coronavirus covid-19 pandemic, which forced the academy to close for three months, putting the entire organization in financial difficulty. Cat lovers and wool enthusiasts can now help keep the Japan Wool Art Academy alive with a crowdfunding campaign – you may even receive one of these iconic cat faces in return for your support.
There are a range of rewards available, the highlight being the giant wearable cat heads, which can be yours for a donation of ¥440,000. This may seem like a steep price, but it's actually a big discount from the normal price of ¥660,000. If you'd rather not shell out so much but still want to help out, the cheapest reward tiers include autographed art books by Sato (¥3,000) and smaller keepsakes like a life-size woolen cat (¥15). ¥000).
So far, the campaign has raised just over 1.7 million yen of its 3 million yen target. If you want to help, you can donate to the fund here. In the meantime, discover the incredible art of wool on the academy's website PageInstagram.
No more news
This new Yayoi Kusama exhibition will feature never-before-seen works of art
The best Japanese movies and series coming to Netflix in July 2020
Tokyo has a museum dedicated to the ceramics of Pablo Picasso
A Yoko Ono and John Lennon Exhibition is Coming to Roppongi in October
Visit the home of famous manga artists like the creators of Astro Boy and Doraemon