The Museum of American Folk Art celebrates its 60th anniversary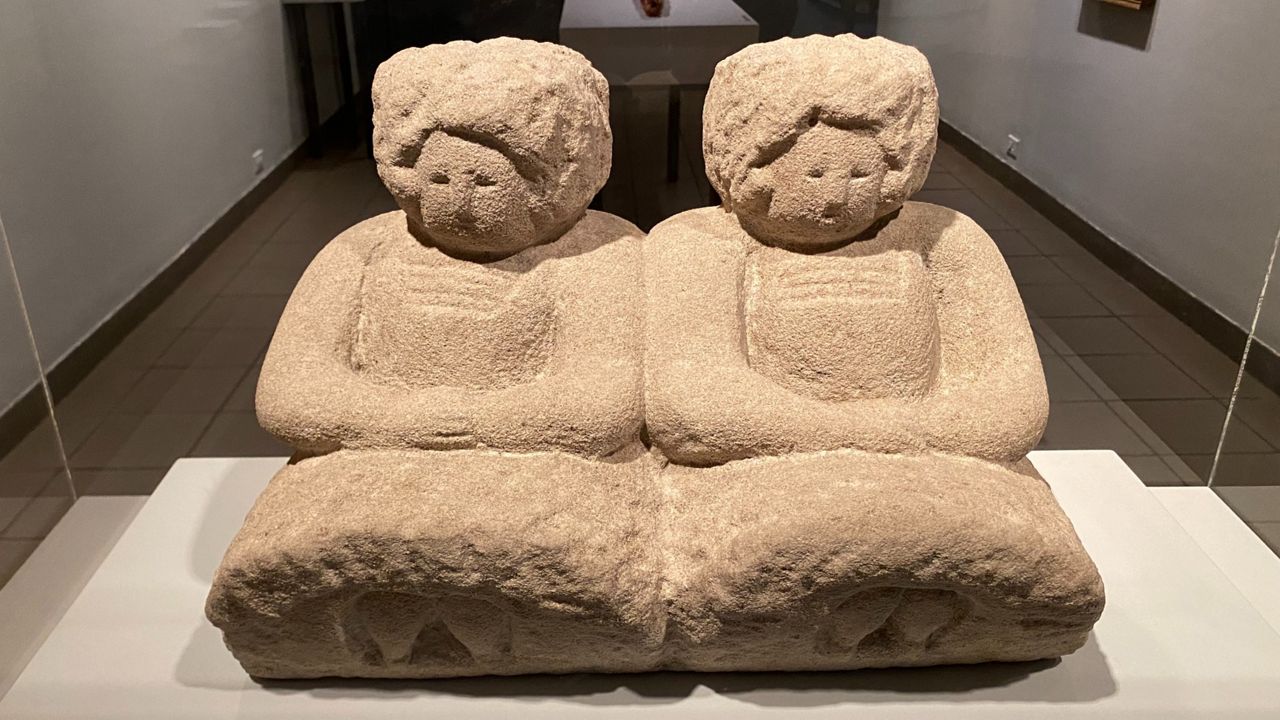 A limestone sculpture called "Martha and Mary", based on the biblical story, was completed in the 1930s by famous self-taught sculptor William Edmonson.
His arrival at the American Folk Art Museum on the Upper West Side has quite a story. He was spotted in Missouri three years ago, beginning his journey to the museum.
---
What do you want to know
The American Folk Art Museum is located on the Upper West Side on Columbus Avenue between West 65th and West 66th streets.
The museum celebrates its 60th anniversary with a new exhibition entitled "Multitudes"
The exhibition includes more than 400 pieces from the museum's collection, some of which are presented to the public for the first time
Folk art is best defined as art made by people who are self-taught and have had no formal artistic training
---
"A friend of the museum, John Foster, who is a collector and art historian, was driving around St. Louis and he spotted it from his car," said Christopher Gorman, deputy director and director of communications for the museum.
Foster stopped, knocked on the door, and spoke to the woman who lived in the house. "He said, 'I'm pretty sure that's a William Edmonson,' who was literally sitting on his lawn and had been there for about 30 years," Gorman said.
The sculpture was purchased and donated to the museum by artist Brian Donnelly, known as KAWS, who is a member of the board. It is part of a new exhibition celebrating the museum's 60th anniversary entitled "Multitudes".
The cultural institution on Columbus Avenue, between West 65th and West 66th streets, is New York's only museum dedicated to folk art.
"Folk artists are usually either self-taught, so individuals who have decided for themselves that they want to paint, that they want to draw, that they want to carve, [or] folk art is often taught by the community, so traditions that are passed down from parent to child, neighbor to neighbor, parent to parent," Gorman said.
Among the more than 400 works on display are quilts, embroidery, shop signs like a giant tooth from a dentist's office, and even whimsical bottles, ships in bottles and beyond. The museum does not charge admission, supported by the generosity of donors, as well as grants and its gift shop. The museum has come a long way since its inception in the early 1960s.
"Collectors and curators thought it was a truly American art form," Gorman said. "It's become quite international, and in fact, there's art here that doesn't come from the United States, but from elsewhere."
To plan a visit or find out about the museum's virtual program, visit its website.