Virtual art galleries: Bringing artists closer to their audience – Science & Tech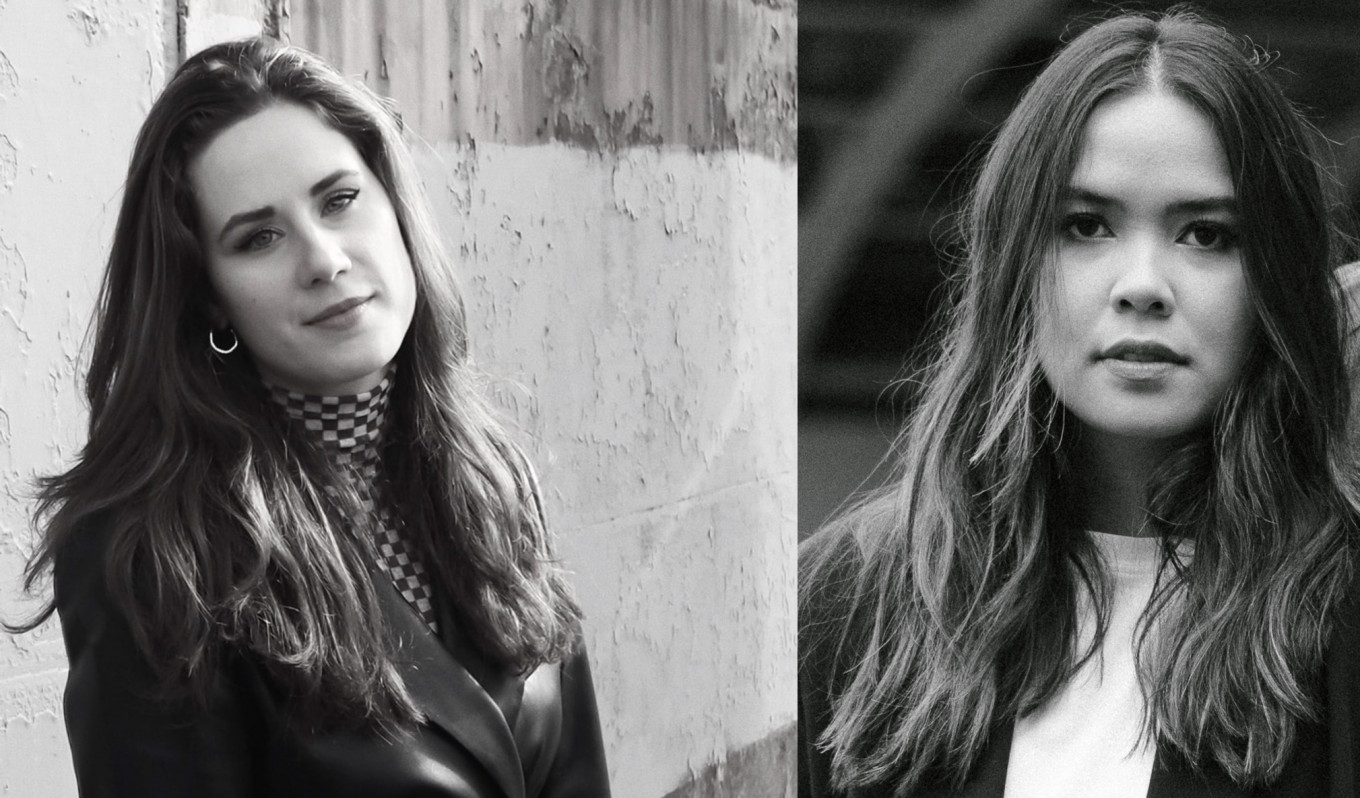 Yohana Belinda (The Jakarta Post)
Malang ●
Fri 19 November 2021

2021-11-19
08:00
172
4ff8360f99af169e3ed81fce0705c3e8
1
science and technology
digital-art-museum,art,art-museum,virtual-art-museum,pandemic,digital-art
Free

The digital world is now dotted with virtual galleries that aim to bring together art collectors from around the world without losing the essence of personal presentation.
The digitization of the art industry was inevitable. Purists might disagree, but the way people interact with artwork is now transformed by the ubiquity of internet platforms. With the pandemic leading to a so-called new normal, galleries around the world are turning to virtual exhibitions.
Adapting to the changes, Adella Bahar, 26, and Brina Paska, 26, created Cakravala, a digital gallery in Indonesia.
"When the pandemic started here last year I was still finishing my art conservation degree in Sydney [Australia]. In my degree, a lot of people don't like virtual art galleries. But I thought in these circumstances we had to adapt quickly to the situation," Adella said.
Adella wanted to focus on content that would bring artists and art collectors together.
"There was a huge gap between enjoying art in a physical space […] and browse or scroll through online galleries.
To keep their audience engaged, Adella and Brina created digital content such as an artist-to-artist talk and workshops. On Cakravala, art lovers can browse the profiles of their favorite artists. It also allows artists to communicate the meaning of their works to their audience. Besides that, there is a dedicated section in the platform called Inside the Mind Of where artists talk about their projects.
"We want to make sure our content is as engaging as possible. We also encourage our audience to have a conversation," Adella explained.
"Because we are an online gallery, the collector does not need to meet the artist in person. Instead, they can browse all the content they want to see," Brina added.
"The importance of my degree is to make art accessible to everyone, breaking this level of exclusivity and making art more inclusive are the concepts of the virtual gallery",
Adela said Jakarta Post: "Instead of staying within the confines of a gallery model, we try to enhance the experience by using the digital space."
Adella also hopes her gallery will also create a more transparent art market.
"Whenever I want to see the work or the price of the work, I would go to the artist's website or profile, like any art buyer. The art acquisition process itself is exclusive.
Technological advantages
In recent months, other digital galleries have been appearing on the Internet, including Where's the Frame? Gianina Ivodie and Maribelle Bierens, co-founders of Where's the Frame? said digital galleries have created a new space for artists and collectors. Similar to Cakravala, where is the frame? was born during the pandemic. The team also offers concierge services to collectors and operates between Indonesia and the UK.
To accommodate the new changes, Gianina and her team used Kunstmatrix to create a 3D-like exhibit that could be viewed from user gadgets. She didn't expect many collectors to take advantage of the digital gallery settings.
"From the feedback we've heard, it helps collectors see the work in a gallery setting, with the correct scale of the works placed on a wall. This makes the collecting experience even more real and enjoyable.
She also realized that Millennials and Gen-Zers tend to consume and learn art in a quick and convenient way. So, an online exhibition or showcasing your work online is a great way to reach a lot of people, she said.
She further explained that the digital gallery has helped different parts of the world.
"The widespread accessibility is one of the great advantages of operating online. The artworks we sell, the interviews we conduct and the articles we write touch many people around the world. It might have been different if we had used a more traditional kind of brick-and-mortar gallery that is mostly accessible to locals or tourists," she said.
Andre (center) is an artist who uses digital platforms to showcase his work. (Courtesy of André Yoga). (Personal Archives/Courtesy André Yoga)
Gianina herself works with artists all over the world including Indonesia, USA, UK and many more.
Gianina and Maribelle create a lot of content for each artist through home videos, write research-based text about their practice, and place it in an art historical perspective. Content is something not used in the traditional gallery.
But by far, technology has enabled Where's the Frame? be connected and create a new platform for young collectors and traditional art collectors.
"Using email, direct messages, Zoom, Microsoft Teams or online contact forms, we were able to connect with different creations around the world. We have partnered with artists from almost every continent without ever meeting them by simply talking to them through these various channels.
Create more space for emerging artists
The existence of art galleries during the pandemic also has an important role for young artists. Cakravala focuses on emerging artists from Indonesia.
"We appreciate works of art or artists who have a distinct style, with an Indonesian touch. These can be Indonesian heritage or themes with local nuances. Additionally, we also want to know who influences the artists," Adella and Brina explained.
Adella and Brina also said that currently they are still trying to introduce local art to the younger generation. As most works of art inspired by Indonesian culture have deep stories, the two curators realize that many young people now prefer to see something "light".
"Digital galleries are really important to millennials because right now everyone is living on their screen. Ironically, we are both far and close together because of the internet. platform or a catalyst that brings people together," Adella said.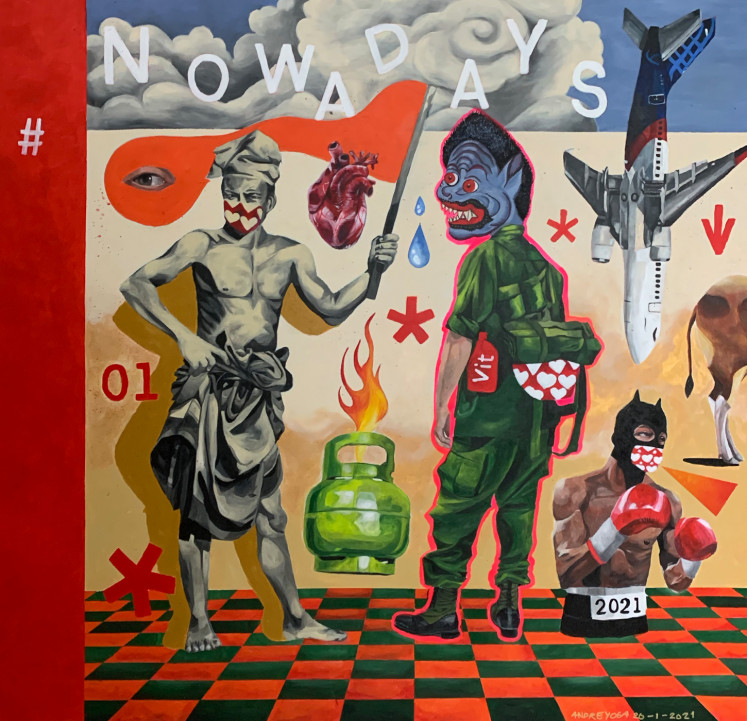 "Nowadays" by André Yoga is inspired by the events of recent years. (Courtesy of André Yoga). (Personal Archives/Courtesy André Yoga)
One of the artists who has exhibited his work with Cakravala is I Kadek Agus Andre Yoga Permana, 27. After having presented his works, in particular Of our time (2021), Identify (2021) and Revolution (2021), Andre could not deny that a digital art space is completely different from a traditional gallery.
"A lot has changed. I recently had to give a presentation on my latest work. I realized that making art doesn't stop at finishing the work itself, but also involves presenting it. to the public," Andre said.
André further explained that virtual exhibits have limitations.
"The interaction with collectors is quite difficult. Our interaction must be through chat. Sometimes I also offer them a visit to the studio," André continued.
Many of André's works are inspired by the industrial revolution in Indonesia, such as Revolution. In this work, Andre reflects on the impacts of a culture of fast-paced global living in Indonesia, where most people choose to relax rather than work hard. Andre shows the contradictions of two worlds through the imagery of a man resting on his buffalo while being controlled by satellites.
I Wayan Kastina, 44, a Bali-based art collector, appreciates the presence of the digital gallery.
"Now it's easier to follow an artist's progress through digital galleries. In the past, we had to physically attend an exhibition wherever it was. Now there is this digital gallery where one can follow artists or works easily. In addition, the public will not have access to purchased works of art. Online galleries allow you to view previous works and play stories."
Also, as a collector, I Wayan has no problem with digital galleries because he also enjoyed digital gallery auctions. He said information about artists and their work is now much easier to find on the internet.
"We are exploring the possibility of working online as a great alternative or complement, but we don't see it becoming the norm," Gianina said.